More content coming soon!
---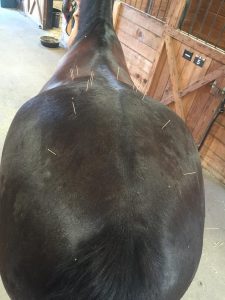 Acupuncture is a non-invasive, highly effective treatment for a large variety of issues. In the most simple terms, acupuncture is the insertion of fine needles into specific anatomical points to create a healing response. Each acupuncture point has specific actions when stimulated. Acupuncture points have ability to modulate pain, improve blood flow, speed up healing and release muscle and fascial tension. Acupuncture has been an important medical modality that is believed to have originated in India at least 7000 years ago.
Acupuncture can be used to successfully treat musculoskeletal, neurologic, pulmonary, gastrointestinal, reproductive and dermatologic systems. Acupuncture can help reduce the need for long term pain medications and works very well in conjunction with your regular veterinary care. In small animals the most common conditions treated with acupuncture include musculoskeletal pain, traumatic nerve injuries, intervertebral disk disease, degenerative myelopathy, post-op surgical pain, cranial cruciate injury, kidney disease and many other conditions.
For performance horses, acupuncture can be used to help treat a large variety of performance issues due to musculoskeletal pain and a multitude of other problems. A list of issues acupuncture can treat includes but is not limited to back soreness, sacroiliac pain, laminitis, neurologic dysfunction, navicular disease, arthritis, and TMJ syndrome. Dr. Yates finds acupuncture to be most useful when used in combination with chiropractic care to treat musculoskeletal pain.
Dr. Yates completed her acupuncture training with the International Veterinary Acupuncture Society. She is always open and willing to discuss when acupuncture may be a useful modality to add to your animal's treatment plan.