About Dr. Taryn Yates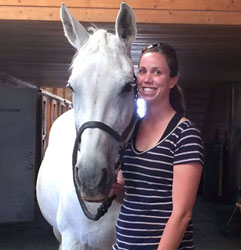 Dr. Yates has always had a passion for animals and working with performance athletes. She graduated from Colorado State University College of Veterinary Medicine in 2012. She then completed her internship at Weatherford Equine Medical Center where she focused on reproduction and lameness. She went on to work as an ambulatory veterinarian in Southern Oklahoma at Performance Equine Associates.
She moved to Bend OR in 2015 to open Active Balance Integrative Veterinary services and focus her practice on chiropractic, acupuncture, and laser care. She completed her acupuncture training with the International Veterinary Acupuncture Society and her chiropractic training with Options for Animals School of Animal Chiropractic. She continues her chiropractic education by regular training visits with her mentor, Dr. Sid Erickson, to ensure she is always up-to-date with the best possible practices for her patients. She is currently working on her certification in canine rehabilitation to further help her clients with their recovery.
After completing her chiropractic and acupuncture training, she realized that she wanted to solely focus on integrative therapies, working with other veterinarians to help enhance their treatment plans through the addition of chiropractic, acupuncture, and laser therapy. Working in conjunction with her client's regular veterinarian has produced amazing and fulfilling results for the patients.
Dr. Yates also specializes in equine performance, conditioning, and rehabilitation. She will work closely with trainers, owners, and riders to develop the best exercises and treatment schedule to help each horse perform at its best. Dr. Yates is an accomplished dressage rider herself, having trained and shown through Grand Prix, so she understands the strength and athleticism these horses need to perform and to maintain an active, healthy, long life. Dr. Yates and her husband Mike have three dogs, Gus, Juno and Kenzie. She and her husband enjoy spending time with family, paddle boarding the rivers, exploring and skiing.
Dr. Yates is here for you & your animal. Please don't hesitate to contact me today at (406) 546-3017 to request your animal's appointment.