About Dr. Taryn Yates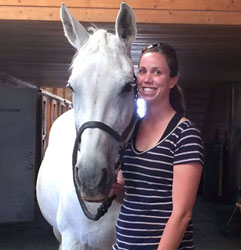 Dr. Yates has always had a passion for horses and working with performance athletes. She graduated from Colorado State University College of Veterinary Medicine in 2012. She then completed her internship at Weatherford Equine Medical Center where she focused on reproduction and lameness. She went on to work as an ambulatory veterinarian in Southern Oklahoma at Performance Equine Associates.
Dr. Yates moved to Bend OR in 2015 to open Active Balance Integrative Veterinary Services and focus on equine chiropractic and acupuncture care. She completed her acupuncture training with the International Veterinary Acupuncture Society and her chiropractic training with Options for Animals. She continues her chiropractic education with regular training visits with her mentor Dr. Sid Erickson to ensure she always brings the best possible care to her patients.
Dr. Yates is an accomplished dressage rider who has trained and shown through Grandprix, earning her Gold Medal in 2016 with her mare Orisis. She continues to be an active member of the dressage community in Central Oregon and is looking forward to her future with her young mare Tally. When she isn't spending time with horses she enjoys hiking, paddle boarding and skiing in beautiful Central Oregon with her two dogs Gus and Juno.
Lives in Bend, OR
Has two dogs, Gus & Juno, and a horse, Tally
Other interests include: Hiking, skiing, and paddle boarding