Your Bend, OR Mobile Equine Veterinarian
Active Balance LLC is a fully mobile animal chiropractic and veterinary acupuncture service. Dr. Taryn Yates is based out of Bend and provides chiropractic, acupuncture and laser services to horses and small animals in Central Oregon.
Every day at Active Balance Integrative Veterinary Services, it is our responsibility to help make your veterinary experience a positive one to ensure that both you and your animals are at ease. Dr. Yates treats every patient with kindness, compassion, patience, professionalism, integrity, and agility.
Dr. Yates specializes in equine performance conditioning and rehabilitation. She will work closely with trainers, owners and riders to develop the best exercises and treatment schedule to help each horse perform at its best Dr. Yates is an accomplished dressage rider herself and has trained and shown through Grand Prix.
Dr. Yates is here for you & your animal. Please don't hesitate to contact us today at (406) 546-3017 to request your animal's appointment!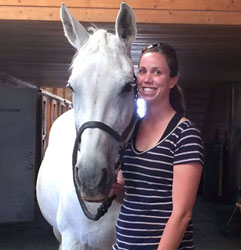 Dr. Taryn Yates
Dr. Yates has always had a passion for horses and working with performance athletes. She graduated from Colorado State University College of Veterinary Medicine in 2012.
Dr. Yates moved to Bend OR in 2015 to open Active Balance Integrative Veterinary Services and focus on equine chiropractic and acupuncture care. She completed her acupuncture training with the International Veterinary Acupuncture Society and her chiropractic training with Options for Animals. She continues her chiropractic education with regular training visits with her mentor Dr. Sid Erickson to ensure she always brings the best possible care to her patients.
Proudly serving the Bend, OR area